Rock Steady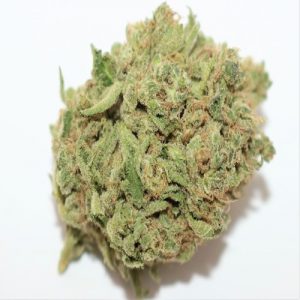 Strain Type: Indica-dominant 80/20
Upon opening the package and breaking it up a bit, the initial smell reminded me of Play-Doh with a side of earthiness. The colour of this bud is a mix of light and darker greens, as you would expect with most indica strains. A thick coating of kief was clearly visible, as were the light, rust-coloured hairs.
This batch was a bit on the dry side, so the count was rich with nice big nugs that required a more gentle touch breaking it up. Despite being dry, it burned nice and slow, with a very smooth but thick dense smoke.
Initial taste was a subtle-yet-flowery perfume combined with a nut shell and slight hashy overtones. There was a soft, almost sweet, nutty aftertaste that was reminiscent of the holiday nuts we scarfed as kids.
Cough reflex was as low as I had ever experienced with any strain. Having consumed about half a joint with no hint of needing to cough caught my attention. Having pondered that for a bit longer than I would have expected, it became clear the head high was already kicking in and had arrived gently but steady, almost stealth-like. At this point, I became aware of the full body relaxation effects taking hold. Soon there was a complete relaxation of body and mind that almost felt like a soft, silk parachute of mellow had drifted down over me. The effects were long lasting; two hours later, I felt just as buzzed as I did after 30 minutes.
Couch lock was minimal to almost zero, even being very relaxed. Long deep philosophical discussions are likely, as is inspired creativity. This strain is a great choice for a movie night or dinner party.
This would a great choice for conditions such as insomnia, anxiety, RLS and pain relief.
Cough index: 0.2 of 5
Taste: 4 of 5
Effect: 4.5 of 5
Overall: 8.5 of 10
If you're interested in purchasing Rock Steady, visit our partner here:
Visit TrueMeds Now