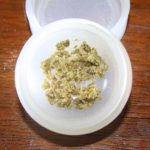 Welcome to the third installment in the Gourmet Hash series! We're venturing further and further from our comfort zone and heading deeper into the unknown. Since the last article, there have been some interesting developments.  Mainly, everything has fallen apart. As I mentioned in the previous installment, the UK Cheese/kief hash was fairly crumbly. I was a bit surprised to see that the shatter itself became crumbly.
After some research and seeking advice from well informed extract specialists, I was relieved to learn this is a very normal outcome. It turns out that by removing the shatter from its wrapper and placing it inside silicone containers, the shatter is able to absorb moisture from the air. The increased moisture causes the material to crystalize. The crystallization is not a bad thing in terms of potency or taste. In fact, the major upside is that the shatter is much easier to work with due to it not sticking to the paddle end of the dab tool. That enables it to be scooped up in small amounts, much like you might with kief.
Ok with that out of the way, on to the ingredients for today's Gourmet Hash. The kief used was a higher-grade, lighter-colour and slightly more expensive kief that was selling for $14/gram at the time this was written (late February).  The light kief has a less earthy smell than others and it offers a very nice taste on its own. It is rich in mild terpenes, which results in almost a skunky spice flavour.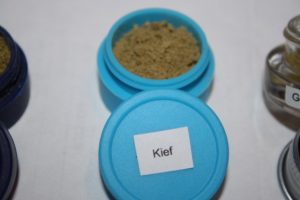 The chosen extract was Hindu Kush live resin from Diamond Concentrates. The aroma of the Hindu Kush live resin is bright with overtones that are more like cedar than pine, and a hint of pineapple. Terpene-rich, the resin looks very wet in the jar, like a mass of tiny globs suspended in a thick oil. Sampled on its own, the flavour very much matches the smell. It has an earthy, almost spicy, exhale. It is very enjoyable on its own.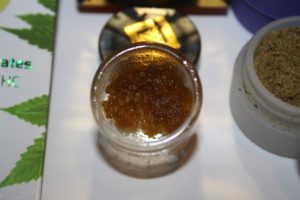 We started with close to a half-gram of the resin placed in the mixing jar and warmed it to just shy of being too hot to touch. I expected better kief absorption than we saw with the shatter, so I went started with 1/4 gram of kief. I put the kief in the jar and closed the lid to allow everything to come up to temperature.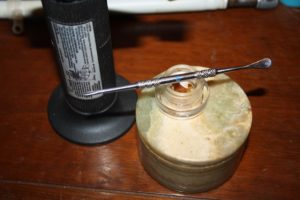 Using my trusty dab tool, I stirred the mix together. The rosin, as expected, absorbed far more kief than the previous batch I made with shatter. After I thoroughly stirred the mix, I compressed it by hand into a nice clump. I then sealed it in the mix jar and left it to cure for 24 hours.
When I opened the jar the next day, there was a wonderfully complex aroma that much more closely resembled a bud of premium flower than hash. The hash was a nice. light colour with an almost translucent appearance that showed the kief was well wetted and absorbed. It was very soft and was easily pressed and played with without sticking.
I placed a sample of this new hash in a bowl and gave it a try. Under heat, it maintained the properties of resin, bubbling and melting into the little bit of kief underneath. Getting a thick rich draw was very easy, featuring a very smooth smoke with wonderful flavours of soft spice, earthy cedar and, perhaps, even a hint of skunk. Very enjoyable.  The name I gave it is simple: Hindu Resin Hash.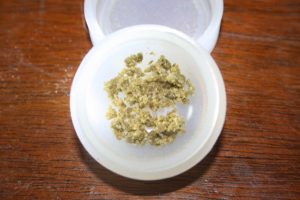 The onset of the high was fairly fast, with an initial cerebral rush that was followed by a mellow, body-relaxing wave of calm. In small doses, this would be a wonderful companion to almost any task. In higher doses, it would be perfectly suited to a relaxing evening with friends, a movie and a pizza or candle light and dinner for two.
A couple of days and a fair amount of exposure to air, it happened: The hash went from soft and shapeable to a drier texture and began to crumble. Worked and poked with the dab tool in the container, it totally crumbled very much like the shatter hash did.
The crumbling really doesn't present an issue, as the potency and flavour remained unaffected. Adding a pollen press to the process, however, seems like it would be a good addition. A press might reduce or even prevent crumbling in some of our final products.
Until next time, may you be blessed with Health, Healing and Herb.