Grapefruit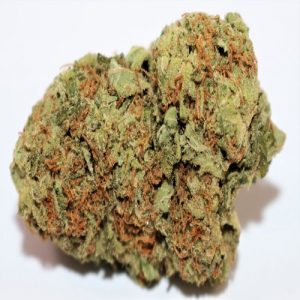 Strain Type: Sativa 70/30
Right out of the bag, the strong terpenes intrude the senses with a strong aroma of citrus that is almost lemony. As I was breaking it up, the scent became stronger and a bit sweeter. The smell is very pleasing to the senses.
The texture was fairly dense and had the perfect amount of humidity. The nug was easy to break up into the ideal size for easy rolling. The initial taste was incredibly smooth. Combined with a very low cough tendency, it makes for a very enjoyable smoke.
Nearing the halfway point, the flavours became more pronounced and the profile changed. The namesake, Grapefruit, became much more prevalent, as that was the taste that dominated more and more through to the end.
As the effect started to kick in, it became quickly obvious this is a day tripper's dream smoke. The head high is the only real noticeable effect, as there is little to no body high whatsoever. A nice sense of relaxed energy settled at the top of my head in what I described in my review notes as an "energetic halo like an electric mushroom cap".
Grapefruit is a definite mood lifter and a complementary companion to anything creative. Strength and duration are both very strong; getting lost in an enjoyable task for a couple of hours would be very easy. As the day progressed, there was no real crash at all and the duration was long and slow to fade. This strain makes for an excellent day starter for mood and motivation.
Ailments that would benefit from Grapefruit fall along the typical sativa range: hunger, pain, anxiety and, in particular, depression.
Cough Index: 0.4 of 5
Taste: 4.9 of 5
Effect: 4.9 of 5
Overall: 9.5 of 10 A strong and predictable sativa.
If you're interested in purchasing Grapefruit, visit our partner here:
Visit TrueMeds Now